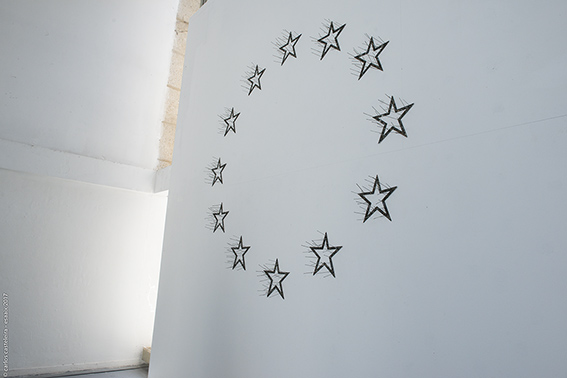 THE AMSTERDAM TREATY 2013 | Sculpture / Installation
Creating a space of freedom, security and justice is one of the objective of the Amsterdam treaty of 1997, which partially replaces the security and judiciary cooperation concerning legal matters. It addresses the common European policies concerning visas, asylum and immigration.

The European Union has adopted coercion policies to react to immigration. «Amsterdam Treaty» is a work that touches on this policy aimed at discouraging migrants and asylum seekers. It is inspired by the spiky «antipigeons» devices used in many European cities and placed on buildings to fight the proliferation of pigeons.

The installation redraws the European Union flag using the anti-pigeons spikes, which constitute the check points. The metaphor reveals the scope of a continuing human tragedy.